Emergency Generator Rentals
Emergency Standby Power is pleased to announce that we now have towable emergency generator rentals available! These generators are available for rent at our facility.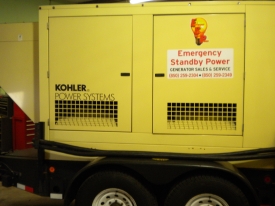 Now, if your generator goes down or your facility loses power, you can call Emergency Standby Power and get everything back up and running as quickly as possible.
We have both single phase and three phase emergency generator rentals. We also have the cabling (tackle) available for rent.
We can deliver to your location and hook up the unit. These are diesel generators with fuel tanks, and will arrive fully fueled and ready to go. We also have units that have switchable voltages for those who may need multiple voltages during their project.
Unlike other rental companies, our units are right here and ready to go. We don't have to get them from "a different facility". You make the call, and we can hook up the generator and go!
You'll find our prices are quite competitive with "big box" rental companies. In addition, you can consult with us on whatever your power needs are, and we can try to find a solution that works within your time frame and budget. Whether you need something temporary, or something permanent, we can help.
We also have  a 500 gallon tank for emergency fueling capabilities, so we can handle your refueling needs as well.
Since we don't require advanced notice, be advised that our rentals will be first come, first served. We will accept reservations, so if you know in advance that you will be requiring a generator, it is highly recommended to call us as soon as you can. We'll do our best to work with your requirements, no matter how big or small they may be.
Give us a call for pricing and availability. Our supply is limited, so availability of our emergency generator rentals is not guaranteed.