Residential & Commercial Generators in Fort Walton Beach, Florida
Residential & Whole House Generators
Adding a whole house generator in the Fort Walton Beach, FL area has never been easier.
Emergency Standby Power handles sales, service and repair of almost every make and model generator available. It doesn't matter if the generator runs on natural gas, propane or diesel, we can handle it.
Our new generator prices compare to the "big box" stores, but with a much more personal experience. Purchasing a generator through us means you know exactly who to call to get an answer, without having to go through the hoops that come with the big stores.
We handle the sale, and if there should be a problem, we handle the warranty repairs. Guess what the big stores tell you? Call a local dealer!
We've completed a number of generator installations, have two electrical engineers on staff and even have access to a local electrical contractor to help figure everything out.
We do keep stock of Kohler generators for residential applications (20kw natural gas). If you are looking for a generator in this range, come by and take a look at our floor model!
Commercial and Industrial Generators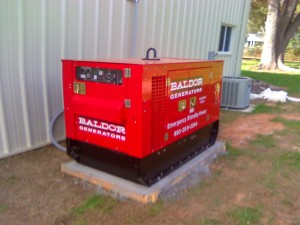 We handle a large number of commercial and industrial customers with very specific needs. Everything from local utility companies, to nursing homes, to condos to military, we've done it. We know the codes specific to most situations, which means we can advise you on what you should be doing.
Emergency Standby Power doesn't believe in guessing. We've been approached to do complete rebuilds on an engine (as recommended by a different company), only to find out that the hugely expensive $20,000 job really only needed to be about $3000. Could we have kept quiet and just done what was asked? Sure! But why waste the customers money on a generator repair that just wasn't necessary?
We have 24/7 accessibility, load banks capable of as much as 1,000 kW and technicians who specialize in the various different aspects or generator maintenance.
We've done installs that range from very simple, to extremely complex.
We have our own crane truck if needed.
In emergency situations, we can be to most of our customers in an hour or less.
Don't get caught off guard! Let Emergency Standby Power handle all your needs for generators in Fort Walton Beach, FL!