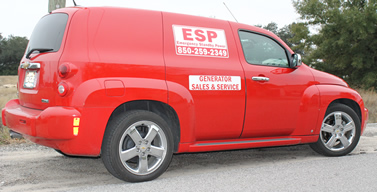 Emergency Standby Power (ESP)  has been a leading provider in the sales and service of generators in the Florida panhandle and surrounding areas for the past eight years.
At ESP, we are committed to quality above all else. We carry the best-available generators from Kohler, Baldor, and many more. Our engineers can recommend the best options for your home or business, or assist you in choosing the right generator for your needs.  
ESP provides quality generator sales and service and our professional engineers can expertly repair all makes and models of generator systems including Automatic Transfer Switches (ATS).  We will keep your generator and ATS systems running smoothly and efficiently!
ESP offers preventive maintenance contracts, parts, and service. With a full line of generators, you will be sure to find what you are looking for in a generator and more.  Let ESP take care of everything for you! Our trained engineers will supply your business and family with safety, security and peace of mind.
Whether you are in need of replacements or repairs, call us at (850) 862-6540 today for unparalleled service at a reasonable price. ESP – your local generator specialists!