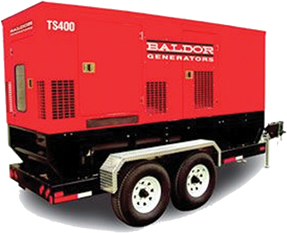 Power can be lost at any time, not just during severe weather.  No matter the reason, being without electrical power is an inconvenience.  Whether the generator is for backup power supply to use in the event of an emergency power outage or it is used occasionally for convenience or recreation, Emergency Standby Power (ESP) sales a number of different models and styles of portable and permanent generators.
Generator Sales
Living on the gulf coast, you may have found the need of a generator during a hurricane power outage.  Be prepared in the event of a power outage  and purchase a generator from ESP in the event you lose power in your home.  A generator can be used for:
Backup Household Power

Having a backup source of power will keep food in the refrigerator fresh during a lengthy power outage.
Individuals with health concerns may need an available electrical source in the event of a power failure.
A room air conditioner might be a critical unit in need of power for individuals with breathing problems and for elderly individuals during hot weather.
With a large enough generator and proper wiring, a household air conditioner can be powered with a generator.

Power Backup for Businesses

Businesses, such as family restaurants, butcher shops, rural markets, and other stores that rely on refrigeration could have inventories ruined by a mid- or long-term power outage and could benefit from having a generator on hand.
For critical health care providers, a backup power source is vital, particularly to power life-saving machines for critical patients.
Hotels, motels, and condominiums will allow their guests to maintain a particular level of comfort and safety during a power outage.
Authorized Generator Dealer
Service and Sales for the following Brands
Baldor
Kubota
Lugger
Cummings
Northern Lights
Mitsubishi
Detriot Diesel
Kohler
Westerbeke
Onan
Perkins
John Deere
Caterpillar
Tradewinds
Kilo Paik